University of Warwick pilots Mosaic for their iQTS and PGCEi programmes: A conversation with Associate Professor Georgina Newton
Written by Rebecca Smith, Business Growth Manager
29 June 2023
(Image credit: Digital Buggu)
Penrose Education is excited to share how the University of Warwick has piloted the Mosaic ITT platform with their iQTS (International Qualified Teacher Status) and PGCEi (International Postgraduate Certificate in Education) cohorts – trialling how the Mosaic platform can support quality coaching practice and assessment when working with trainees and mentors internationally across a number of countries.
iQTS is a new teaching qualification introduced in 2022 exporting UK excellence in teacher training by offering overseas teachers access to high quality initial teacher training (ITT) delivered by English ITT providers. iQTS holders also automatically qualify for QTS and this is of use internationally, and if they choose to teach in England in the future.
The University of Warwick, renowned for its commitment to excellence in education, was selected as one of the six initial iQTS pilot providers and from September 2023 eight more providers will participate in a wider rollout.
In this case study, we explore how the University of Warwick has been trialling the Mosaic platform with their iQTS and PGCEi trainees and mentors abroad. We present an interview with Georgina Newton, Associate Professor, from the University of Warwick, who shares valuable insights into their experience with Mosaic.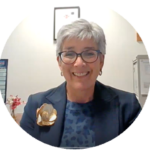 Georgina Newton

Associate Professor, University of Warwick
Georgina has been at the University for nine years and teaches on the secondary ITT programme, looking after professional practice and working closely with school partners.
What led to the University of Warwick becoming one of the first iQTS pilot providers?
"It's what we were doing anyway. We already had an international PGCE (PGCE constituting the academic qualification at Master's level) – the academic qualification that often goes along with qualified teacher status. Although until the introduction of iQTS our PGCEi didn't offer qualified teacher status with it so it didn't include assessment of teaching practice.
When the Department for Education (DfE) decided it wanted to introduce international QTS, to export our programmes abroad, and was looking for partners to pilot with, we already had this strong offer of the international PGCE.
We already had recruitment channels and links with schools where we'd been training mentors, so adding iQTS was a lovely development. We applied to the DfE to be a pilot partner on the programme and now we've diversified to also offer this international qualified teacher course that delivers a PGCE and QTS right across the world."
Why did Warwick decide to pilot Mosaic for its iQTS and iPGCE offering?
"Appointed as one of the iQTS pilot providers we were looking for a really good solution for assessment, because if you've got trainees in Bangkok or Bahrain, or wherever, you can't just nip in to see their teaching, talk to their mentors and agree the assessment outcomes and that kind of thing – which we can when it's a school within easy reach. Using Mosaic has enabled us to do just that.
We really saw how useful Mosaic would be for providing that space for both University and school-based professionals to have access to the record keeping, the files, the assessment judgments and the portfolios that sit at the heart of the trainees' training.
We've tried for years to create our own workarounds for this solution, but we've never really arrived at an effective solution. It was wonderful to find that an organisation like Penrose Education had been creating a product like Mosaic that allows all stakeholders to be able to input information and see information at the right time, in the right way. 
It enables us to have oversight of the training and, also, for the trainee to be able to participate in that as well. They can see the targets being set for them, feedback on that, set targets for themselves, communicate with their mentors, and communicate with their professional practice tutors who may be 2,000 miles away. 
Mosaic sits in the middle of all of those spaces and enables each of us access to information in the right way, at the right time, and even on any device. So, it was really timely that we found Mosaic just at the point that we were launching the iQTS."
How did you find the Mosaic initial set up process?
"It's very easy to implement. For example, our course started in the middle of August, so I didn't take leave and I was available so we could get everything set up, ready for day one. Historically, doing a task like that you would do everything possible to prepare and then run for cover the minute it went live, because of all the things that could arise when everybody tries to log on…
1. It didn't take anything like as long as it could have to set everything up.
2. Our admin team was able to say 'I know… I can do that', because they could see quickly and easily how to just get on it. You don't need more than a three-minute tutorial to get on and get started, which was something I hadn't really anticipated going as smoothly as it did.
3. There's also a bulk upload function, which isn't present in other solutions we've used. It was just a case of – we've got all the emails, we've got the profiles, we've got the people, we know how they match together, and then the Mosaic technical team set it up with all the relationships.
We could then turn our whole attention to just adding in the academic side of it.
And being on hand for all the students and the mentors right in the early days resulted in a total of zero callouts."
Has Mosaic helped to overcome any challenges in delivering iQTS?
"The assessment is the part that was always the biggest headache for us – the Mentor is in school, in the classroom watching the trainee do 99 different things and we need to know that. In the past we would have sent them forms with macros and checkboxes that they then would have emailed back and then you've got file size issues, macro issues, data integrity issues, etc., all big problems if one tiny bit goes wrong. But none of that is a factor when you're working in a system like Mosaic, because the assessment is just done live. Yes, yes, tick, tick, by the mentor – they barely realise they're doing it and we have instant visibility of all those results. It's fabulous from an assessment point of view. 
In fact, one of our tutors recently said, 'how did you simplify the assessment form? What we do now is so streamlined. It's nothing like that big, long wordy document we had before that was so cumbersome to flick between'. They were astonished to learn that not a single word had been taken out.
The way the Mosaic interface works, with its drop downs and ways of hiding things you don't need, and the fact that it's timely and that you can see what you've done (so you don't have to do it again) meant that all the same detail was included.
All those lovely little features designed into Mosaic make it so much easier and quicker for tutors and trainees to view, so they don't really recognise that it's the same thing."
How has piloting Mosaic impacted the trainee experience?
"You know one thing that students don't like when they are coming into teaching is the fact that there are so many different systems and portals and passwords to remember. It's complicated enough being part of the university, and then when you load on a school's environment as well, the last thing you want is for any of that to be cumbersome. We know that impacts on people's well-being. 
To have a solution as streamlined as Mosaic that contributes in such a rich way to their development is most helpful. Even when our tutors are on the ground everyone can tap into the same thing. 
It's as if Mosaic has been holding the space in between us all that time and then when we come together everybody's collaborating in real time, in real space, and within the platform itself as well. So, it's almost like time and space are no barrier when you're using a solution like Mosaic and that is an absolute godsend on an international programme like this."
Is it possible to draw any comparisons before and after piloting Mosaic with your PGCEi programme?
"Last Summer we undertook a pilot with our local PGCE students, those that had used our existing solution for most of the year. For one month they were given access to Mosaic as a comparator. We were really worried initially that we were giving them lots of extra work to get to grips with – a whole new platform, at the end of their course, when the stakes are high. 
We asked them to use Mosaic to do their final assessment and to use any of the additional features they felt they could make use of.
They took under five minutes to train – the mentors and the trainees.  We met online for a training session and were done in 20 minutes. 'Yeah, yeah I can see, that's fine, we'll get off'. Their mentors said it at least halved the amount of time they had to spend, because they could also compare like with like. 
We do see a lot of reticence to engage with new platforms, but that wasn't really evident in the small pilot we had in the Summer. And they were a powerful group because they were the only ones that could compare like with like, as it was in the end."
Mosaic – the online platform for ITT
Mosaic is designed with blended and remote learning in mind, to help align centre-based and school-based learning, fostering high-quality mentoring and critical reflective practice. It seeks to facilitate enhanced transparency and drastically cut unnecessary workload associated with monitoring processes and assessment points, through innovative edtech.
If you would like to take a look at the platform please get in touch.