Introducing Mosaic's Book of the Term Prize Draw
At Mosaic, we want to fill the (teacher training) world with thoughtfully designed and effective EdTech. But we also want to fill the (teacher training) world with books.
To help us do the later (and perhaps the former too?), we have decided to run a termly book give away competition. The titles will vary, but will generally be books we have found helpful, interesting and/or thought-provoking in our attempts to develop our understanding of what exceptional teacher training looks like.
Our chosen book this term is: The Definitive Guide to Instructional Coaching, by Jim Knight (2022).
If you are anything like us, you will have been hearing the term "instructional coaching" more and more regularly. It seems to be everywhere! However, it isn't always clear that people are talking about the same thing, even when they are using the same words. It doesn't seem that we have a shared (or agreed) definition of instructional coaching in the teacher training world.
So when I saw that Jim Knight (the "king of coaching" according to John Hattie), was putting out The Definitive guide, I had to get a copy. At Mosaic, we've been reading Knight's books for many years, and I was excited to see how he had pulled together all his research and learning about coaching into one place.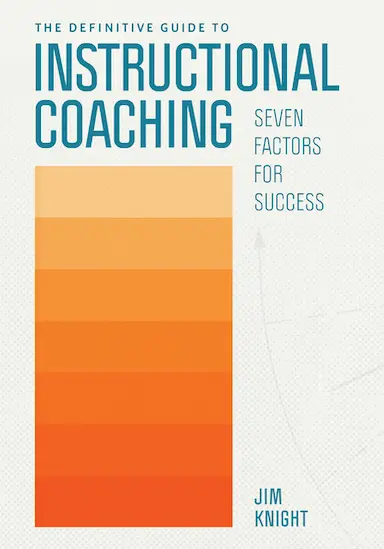 "Too often, we design professional development without considering the concept of praxis - we tell teachers what to do and how to do it, leaving little room for the creativity and knowledge teachers bring to school. To bring about the schools our children deserve, we need to ensure that teachers don't turn their brains off when they walk into our buildings." p31
The first thing I honestly felt when reading it was a bit of a culture shock. While the book was really helpful (more on that below), the initial reaction I had was being reminded how different teaching (and particularly teacher training) is on the other side of the pond. Much has been said about the
Americanisation
of British education, but this book reminds you that there are still some big differences!
Possibly related to these cultural differences, I was also struck by how much space Knight dedicated to the ethical and emotional elements of a coaching relationship. We can often get stuck in the how and what of mentoring and coaching and it was really refreshing to go right back to the foundational principles – and the why – of coaching.
This relates to another key piece of learning that I took from this book – the importance of balancing teacher agency with more explicit support/instruction. In teacher training, we need to find ways to effectively share research and examples of best practice in teacher training programmes without taking away the teacher's own sense of responsibility for – and ownership of – their performance in class. Knight talks about the importance of the coachee (or mentee) having choice and a voice during the coaching process. We cannot deny that often the coach will have more knowledge and experience than the person they are supporting, but we also must still position their relationship as a genuine partnership – colleagues working together on a shared goal. 
"When coaches balance telling with asking, they say what they think while making it easy for teachers to say what they think, too. Done well, such dialogical conversations are collaborative, open, free, and energising exchanges where everyone honestly says what they think." p96
This is a particularly important challenge for EdTech providers. It is very easy for assessment and learning management platforms to inadvertently position trainees and coachees as recipients of learning content, advice or instructions. But for those of our customers hoping to draw on Knight's guide, we need to think of ways that our platform design can support or facilitate more dialogical approaches to mentor-trainee, coach-coachee partnerships – all while framing this process within the context of overall course aims.
Knight does offer some practical advice on how entire programmes can be designed to best enable this type of relationship to flourish, and we are going to spend time considering (and possibly re-interpreting for a non-American context) this advice and thinking what implications it might have for our platform.
"Coaching isn't easy. It is challenging and sometimes frustrating, because it involves infinitely complex work with other human beings." p195
We are giving away three copies of Knight's book to anyone working in teacher training.
To be in with a chance to win, please enter your details
here
. We will randomly select our lucky winners on the
14th of October
.
Mosaic and mentoring/coaching relationships
While we always have more to learn, at Mosaic we are proud of what we are already doing to support mentoring and coaching relationships in teacher training. We recently conducted a survey of mentors/coaches and trainees/coachees already using the platform, click 
here
 to find out what they told us about their experience of Mosaic.
Interested in finding out more about how Mosaic works and exploring how it could transform your training provision?